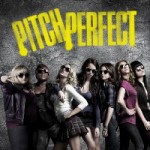 Universal has released Pitch Perfect, adapted from Mickey Rapkin's 2008 book, to mixed but positive-leaning reviews. The creative team includes Kay Cannon (screenplay), Christopher Beck and Mark Kilian (music), Jason Moore (direction), Aakomon Jones (choreography), Julio Macat (camera), Lisa Zeno Churgin (editing), Lee Orloff and Paul Ledford (sound), Barry Robison (production design), Jeremey Woolsey (art direction), David Hack (sets), Salvador Perez (costumes), Roxanne Wightman (hair), and Deborah Zoller (makeup). The cast includes Anna Kendrick (Beca), Skylar Astin (Jesse), Rebel Wilson (Fat Amy), Adam DeVine (Bumper), Anna Camp (Aubrey), Brittany Snow (Chloe), John Michael Higgins (John), and Elizabeth Banks (Gail).
Justin Chang (Variety): Pitch Perfect is a cheeky delight. Without straying from the formulas of such campus-competition comedies … this upbeat crowdpleaser distinguishes itself with a saucy script and a flawless cast led by Anna Kendrick and a scene-stealing Rebel Wilson. While the nearly two-hour laffer could use a tighter trim, Universal has a potential winner on its hands, provided youth audiences don't feel oversaturated with superficially similar tube fare. … Pitch Perfect nails the trappings of this increasingly popular but defiantly un-hip musical subculture: the elaborate vocal arrangements, the self-consciously goofy choreography, the pun-tastic group names and the fiercely competitive spirit perpetuated by campus rivalries and nationwide contests.
Roger Ebert (Chicago Sun-Times): You have to hand it to Pitch Perfect. It's a twentysomething song-and-dance movie built around rival a cappella groups. That's more exciting than dueling string quartets, I suppose – but no, the quartets would be performing better material. In the world of this film's Barden College, a cappella seems to rank above football in extracurricular activities. … Still, Anna Kendrick is adorable, a young version of the angelic Marisa Tomei. And it must be said that the Bellas are a first-rate group, with choreography so crisp that Bob Fosse couldn't have drilled them to move more precisely. You may be reminded of a Broadway musical. Certainly the choreography is way over the top of other championship a cappella teams on You Tube.
Neil Genzlinger (N.Y. Times): Pitch Perfect has a pitch problem. This movie is about collegiate a cappella, but it's loaded with the plotting conventions of the Disney Channel's tweener shows. That makes it only occasionally funny and not at all illuminating about the rich world of a cappella singing. … As the overstuffed plot makes its muddled way toward the inevitable onstage triumph, the best comic moments come from secondary characters like Fat Amy (Rebel Wilson), another Bella, though they sometimes court offensiveness. The NBC competition series The Sing-Off showed how entertaining a cappella music can be, but this movie doesn't respect it enough to delineate the hard work that goes into making it.
Mary Pols (Time): Anna Kendrick is cast against type as a girl too cool for school in director Jason Moore's Pitch Perfect, a spirited, irreverent and hugely fun comedy set. … Pitch Perfect is a tale of conversion, of rigid people on both sides of the fence – that is, traditional and alternative – loosening up and coming together for the sake of … musical victory. … Yes, there's some business about friendship, but that shimmies into the plot too late to take seriously. … Pitch Perfect is free of earnestness and messages of social responsibility. You leave it wanting to sing and dance. I'm not sure of the individual talents of the performers, but the point is the way they sound collectively, harmonizing, whether on stage or in a friendly a cappella-off on a Saturday night on campus, which is never less than delightful.
Claudia Puig (USA Today): 3 out of 4 stars. The spirited a cappella singing in Pitch Perfect makes a predictable, feather-light coming-of-age film irresistibly fun. Inspired by the increasingly popular phenomenon of college a cappella groups … Pitch Perfect showcases this campus subculture in all its eccentricities while capturing the cutthroat rivalry among its singing members. Pitch Perfect will fill the bill nicely for those who yearn for the glory days of Glee, enjoy fast-paced, nerdy snarkiness and have a soft spot for tales of rhythmic scholastic activities. … The sisterly bonds of friendship forged between Beca and her singing mates are just as important as the results of their big Lincoln Center sing-off. Pitch Perfect's engaging mélange of pop songs and cheeky dialogue makes for good-natured fun.
Betsy Sharkey (L.A. Times): Pitch Perfect is amiable enough, and certainly in tune, but on most scores the film ends up playing in the shadow of the genre-bending series. The story follows the same basic Glee arc. … Getting prepared for the annual contest … is what keeps things humming. That journey is accompanied by a string of catchy musical mash-ups, bang-up choreography, competition jitters, egocentric stars, love, heartbreak and relationships that are about as unharmonious as they come. … What helps offset the predictable in this very predictable movie is a series of show-stopping numbers, so props to the folks who oversaw music and choreography. … Although Pitch Perfect isn't perfect, Kendrick earns her moment in the spotlight with every note.