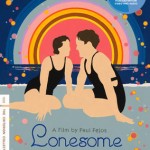 Criterion has received universal praise for its release of the DVD with a triple-play of Universal features helmed by Paul Fejös from the late 1920s. The first movie is the hourlong silent romance Lonesome (1928), included on the U.S. National Film Registry in 2010. Its creative team includes Mann Page (story), Gilbert Wiarrenton (camera), Frank Atkinson (editing), and Charles D. Hall (art direction) with a cast that features Barbara Kent Mary) and Glenn Tryon (Jim). The second movie is the hourlong silent horror The Last Performance (1929). Its creative team includes James Ashmore Creelman (story), Hal Mohr (camera), Edward L. Cahn, Robert Carlisle and Robert Jahns (editing), Charles D. Hall and Thomas F. O'Neill (art direction), and Sam Perry (music) with a cast that features Conrad Veidt (Erik the Great) and Mary Philbin (Julie).
Of particular note is the third movie on the disc, the musical Broadway (1929), adapted from the long-running 1926 play by George Abbott and Philip Dunning. At the time, it was the most expensive film ever produced at Universal and its first talking picture with Technicolor. For the film, Fejos designed a camera crane that could travel 600 feet per minute, which allowed unusually fluid movement. The film's creative team includes Charles Furthman and Edward T. Lower Jr. (screenplay),  Hal Mohr (camera), Edward Cahn and Robert Carlisle (editing), Howard Jackson (music) and Charles D. Hall (art direction) with a cast that features Glenn Tryon (Roy Lane), and Evelyn Brent (Pearl).
Adam Becvar (Cinema Sentries): While it's a pleasure to see Lonesome on home video for the very first time in itself, Criterion's crew have sweetened the pot by adding two more Fejos titles to this release. First up is a somewhat-complete cut of the silent version of The Last Performance … from 1929, which stars the magnificent Conrad Veidt as a magician who loses his bride to an assistant. Next up is a patchwork reconstruction of Broadway (also from 1929), one of the first films to use a crane, assembled from both the sound and silent versions of the drama.
Mike Clark (Home Media): What will undoubtedly end up being regarded as one of the home entertainment events of the year. … Two additional Fejos features are part of this package: Conrad Veidt in the 1929 silent The Last Performance … and the mob-backdropped musical talkie Broadway. … Fejos did not (after Lonesome) lose his very obvious love for moving the camera. Though Tryon plays a hood-employed hoofer hoping to make it in the show biz big-time, the camera snakes around a club (his boss's) that looks huge enough to fill half-a-soundstage. If this is a speakeasy, it must be the biggest one in town, and I don't think a "Joe Sent Me" type of introduction at the door would do all that much to provide a smokescreen.
Lawrence Devoe (Blu-Ray Definition): 3-1/2 out of 5 stars. Although Lonesome was technically a silent film, a music track and sound effects are added to give it more pizzazz. In addition, there were three dialogue scenes incorporated, something unusual for 1928. … We are in luck, as Criterion Collection has given us two other Fejos films: the 1929 Last Performance with Conrad Veidt; the reconstructed sound version of the 1929 musical Broadway. … Film-lovers should be grateful for companies like the Criterion Collection that have taken the time to resurrect nearly forgotten minor masterpieces like Lonesome. … If this were not enough, we actually get a triple-feature with the addition of nearly full-length restorations of two of director Fejos's other hits both of which will be revelations to film history buffs.
Dusty Somers (Blog Critics): Prepare to be utterly taken aback by Paul Fejos' Lonesome … a stunning display of visual storytelling. … The two major supplements here are Fejos' two subsequent films for Universal – an incomplete version of The Last Performance, a silent starring the great Conrad Veidt as a magician pining after his assistant, and a reconstructed sound version of Broadway, an ambitious musical with a Technicolor finale. … The Bottom Line: Absolutely a must-see in every sense of the term.