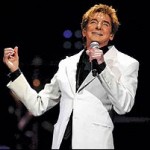 Barry Manilow has received positive reviews for his third Broadway concert, simply titled Manilow on Broadway. His last appearance was the 1989 show Barry Manilow at the Gershwin; his first concert was Barry Manilow on Broadway, in 1976 at the Uris (which is now called the Gershwin), for which he received a special Tony Award. The creative team for this version includes Kye Bracket (staging), Ron Walters Jr. (music direction), Seth Jackson (production design), and Ken Newman (sound). In addition to Barry Manilow, the performers include Kye Brackett and Sharon Hendrix (backup vocals),  Joe Melotti and Ron Pedley (keyboards), Michael Lent (guitar), Russ McKinnon (drums), David Rozenblatt (percussion), and Stan Sargeant (bass).
Glenn Gamboa (Newsday): Manilow on Broadway is a fast-paced retrospective of the Brooklyn native's life and career, built on his warmth and charm as a storyteller as much as the songs that make the whole world sing. "We don't have any phantoms, any lions or any Spider-Men," Manilow said.  … "All we have is hit songs." That is more than enough. … "I feel you willing me through this," Manilow told the audience, after his voice faltered slightly. They did. Looks like he made it.
Stephen Holden (N.Y. Times): As it has with his fellow legends, time has inevitably diminished Mr. Manilow's singing. High notes have disappeared, a certain unsteadiness has crept into his delivery, and his belting is no longer robust. … The fans who sang along with his hits didn't seem to notice. What mattered was that he was present and doing what he has always done and simply being himself. … Near the end of the concert the excitement built as Mr. Manilow played and sang duets with his younger self on television. At last came the triumphal "I Write the Songs," with which the audience sang along waving green light sticks.
Brian Scott Lipton (Theater Mania): Proving just how effective he can be as a singer and a ballad writer, Barry also detours slightly from the show's greatest hits format to sing the lovely "Every Single Day" from Harmony, the still possibly Broadway-bound musical he co-wrote with frequent collaborator, Bruce Sussman. He also reminisces about his Williamsburg upbringing with his loving grandfather and compliments the hometown crowd on how kind they were during Hurricane Sandy. He knows how to win us over. Not that he needs to. … Even a non-Fanilow has to admit Barry Manilow is a singer and composer who both respects words and his audience.
Frank Scheck (Hollywood Reporter): The 69-year-old singer struggle valiantly to get through the show, despite still obviously battling the bronchitis that caused him to cancel several previews. It was a lesson in showbiz grit and dedication that younger performers would do well to emulate. It also was a good example of why Barry Manilow still enjoys a dedicated following. … His visible efforts also gave the evening a moving, spontaneous quality that might otherwise have been lacking. … Like every great showman, he saved his biggest crowd pleasers for the end of the evening. … They sent the audience out on a high, hoping it won't take a miracle for Manilow to return to classic form.
Jessica Shaw (Entertainment Weekly): Manilow, now 69, brought such a combination of tender personal moments, an easy connection to the audience, and a genuine elation to performing that you couldn't help but dance in the aisles or swing the glow-sticks handed out by ushers. … He was downright innovative singing backup for himself, as footage of him singing "Mandy" on a mid-'70s episode of Midnight Special played on the screen behind him. … It may come as a shock to some, but yes, he's still got it. After all, he is music. B+