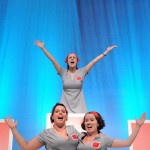 The Nature Theater of Oklahoma has received positive reviews for its multi-part Life and Times, presented Off-Broadway by Soho Rep as part of the Under the Radar festival at the Public Theater. The creative team includes Kristin Worrall (book), Florian Malzacher (dramaturgy), Pavol Liska, Kelly Copper (direction), Robert M. Johanson, Julie LaMendola, Daniel Gower (music), and Peter Nigrini (design). The cast includes Ilan Bachrach, Elisabeth Conner, Gabel Eiben, Anne Gridley, Robert M. Johanson, Matthew Korahais, Julie LaMendola, Alison Weisgall, and Kristin Worrall.
Joe Dziemianowicz (Daily News): Life is short. The Nature Theater of Oklahoma's Life and Times: Episodes 1-4 is long: 10 hours altogether. Along the way, it's amusing, touching, joyful and boring. … It's a memoir like no other and can be seen piecemeal or as a marathon, where food is served during the breaks. It's bound to trigger your own memories and the personal becomes universal, an idea underscored as the show builds from one performer to two to six to 18. Episode 1 covers infancy to third grade. … Episode 2, the best chapter, recalls early adolescence. … Parts 3 and 4 … traces teen milestones and trials. Big laughs lead to a weak cosmic conclusion that's not the best of Times.
Jason Fitzgerald (Back Stage): In the hands of other artists, Life and Times: Episodes 1-4 would be the paradigm of pedantic pointlessness. Instead, crafted by Nature Theatre of Oklahoma, the performance ensemble directed by Pavol Liska and Kelly Copper, this four-part mock epic is the first great theatrical event of 2013. Making theatrical spectacle out of everyday ramblings is Liska and Copper's chief parlor trick. … Life and Times, combined with its epic magnitude, makes music of its tedium and a kind of love out of its Olympian labor. … The question that Life and Times poses – What can we do with someone's life? – resonates far beyond the theater stage.
Charles Isherwood (N.Y. Times): "God, this must be so boring for you!" Thus runs a line from the libretto. … You may be sorely tempted to shout back, "God, yes it is!" But Life and Times is also entrancing, maddening, heartbreaking, sidesplitting, even, in its humble way, awe-inspiring. … This long, loopy song of innocence and experience, conceived and directed by Pavol Liska and Kelly Copper, made for one of the most unforgettable adventures of my theatergoing experience. … If asked to articulate my responses in the moment, I couldn't put it better than our lovable but long-winded heroine does as she reels through the years: "I was like, 'Oh my God!'"