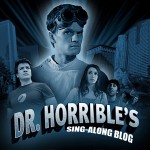 Last night, CW presented the TV premiere of the 2008 Emmy-winning web musical Dr. Horrible's Sing-along Blog. Of course, most critics weighed in on the musical when it first aired online four years ago, but below is a sampling of what bloggers now are saying about how the show has held up in its transfer to TV. For the record, the creative team includes Joss Whedon (writing, direction), Maurissa Tancharoen, Zack Whedon (writing), Jed Whedon (writing, orchestrations), Ryan Green (camera), Lisa Lasek (editing), Alethea Root (art direction), Sandy Struth (sets), Shawna Trpcic (costumes), and Nicole True (hair, makeup). The cast includes Neil Patrick Harris (Dr. Horrible, Billy), Nathan Fillion (Capt. Hammer), Felicia Day (Penny), and Simon Helberg (Moist).
Robert Lloyd (L.A. Times): One would reckon that much of the audience for Dr. Horrible will have already seen it, though many will want to watch it again – on television! with commercials! – because we live in a world where watching things again is just how we watch things. (It holds up well.) … Passing time has only increased its significant star power. … It is a sweet, rather sad piece that – like the songs, by Whedon and his brother Jed, which are at once mock-heroic and actually heroic, mock-moving and moving in fact – works both as parody and as a drama. It also works as comedy, from line to line and moment to moment, but it is not, really, a comedy. It kept me quite unsettled, seeing it for the first time – and subsequent times, for that matter.
Richard Marroquin (Nerdtainment): Once you get past the initial blog entry, the story really starts to flow. I really enjoyed the dark feel of the film with the humor mixed in. The songs are ridiculously entertaining. … I really got sucked into the characters to the point I wanted to punch Captain Hammer in the face. Also, there is that moment in the movie where you just throw your hands up in the air and want to shout "Oh no! Why?" … The quirkiness of the movie does not get to the point of irritation and it has a slam the door shut type ending. I cannot find too many flaws if any at all during the movie, only that it was short and left me wanting more. Then again, it was not a motion picture and gave more than what a web series needed to give, so that was a bonus in it self. Rating: 9 out of 10
Alan Sepinwall (Hit Fix): Once upon a time, this might feel like validation of the Dr. Horrible experiment – an obscure indie project graduating to a (relatively) mainstream media outlet. … Now it's just filler programming for the CW. … At the time, Whedon talked about how Dr. Horrible might turn out to be the model for future passion projects that don't fit a particular commercial niche, but there haven't been as many successors – at least, not involving talent this high-profile – in the years since. … Overall, Dr. Horrible feels more like a singular event, from a time when all these creative people had nothing else to do, rather than the start of a huge trend.