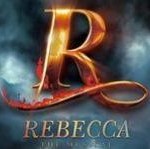 As one of its characters sings, "She's Gone." The German musical Rebecca, adapted by Michael Kunze and Sylvester Levay from Daphne du Maurier's 1938 novel (also the source of Alfred Hitchcock's 1940 Oscar-winning film), will not appear on Broadway – at least not this season – despite its international success since its world premiere in 2006 at Vienna's Raimund Theater. Under the direction of Francesca Zambello, the Austrian production ran for three years and was subsequently mounted in Japan, Finland, Hungary, Germany, Switzerland, and Romania.
In 2009, Ben Sprecher produced the first English readings in London: one in May that featured Lisa O'Hare, Julian Ovenden, and Anna Francolini; one in October that featured Sierra Boggess, Brent Barrett, and Susan Rigvava Dumas. Christopher Hampton wrote the new book in collaboration with Kunze and Zambello, who again directed. However, the planned West End production was scuttled because of financial and technical difficulties. In 2011, Sprecher then produced a New York reading, directed by Michael Blakemore and Zambello, that featured Sierra Boggess, Hugh Panaro, and Carolee Carmello. A $12m Broadway production was soon announced for 2012, first for January and then for November.
However, the production was cancelled each time when financing fell through, despite $1m in advance sales. After the second (and final) cancellation, it appears that four supposed investors never existed and that a fifth was scared away by an anonymous e-mail. Ronald G. Russo, counsel for Sprecher, released a statement this past Sunday saying, "Following an extensive search over the last week, I can now confirm that there is no evidence whatever that 'Paul Abrams,' or any of the other three investors brought to this production by Mr. Hotton, ever existed."
As the N.Y. Times reported, it was Mark C. Hotton who connected Sprecher to Abrams, the supposed wealthy South African businessman who pledged $4.5m, some ten times more than normally pledged by wealthy investors. Hotton apparently was to receive a 6 percent commission on the money he helped raise, an arrangement once common but rare today. Producers usually now grant a small percentage of weekly profits to such middlemen.
Neither Hotton nor Sprecher have been charged with any crime, but the FBI and federal prosecutors in Manhattan have begun criminal investigations into the financial collapse of the musical production.