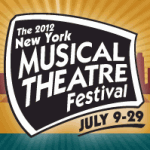 The New York Musical Theater Festival closed its 2012 season on Sunday. The next day, NYMF announced the winners of its 2012 awards, as voted by the NYMF jury. This year's NYMF Jury included: Dan Bacalzo (Theater Mania), Dale Berke (NYMF), Donna Lynne Champlin (actor), Michael Dale (Broadway World), Ken Davenport (producer), Linda D'Onofrio (NYMF), Jason Eagan (Ars Nova), Frank Evans (BMI), Lily Fan (producer), Peter Filichia (Star-Ledger), Erik Haagensen (BackStage), Lily Hung (NYU), Tim Jerome (NMTN), Matthew Murray (Talkin' Broadway), Tamara Tunie (actor-producer), and Keith Varney (writer-actor).
Michael Ogborn garnered two jury awards for Baby Case (Excellence in Music, Excellence in Lyrics), while Jeremy Dobrish picked up Excellence in Direction, and the show won the "Best of Fest" Audience Prize. The jury awarded Most Promising Musical to A Letter to Harvey Milk, which also earned Excellence in Book for Jerry James, Excellence in Lyrics for Ellen M. Schwartz (in a tie with Michael Ogborn), and Outstanding Individual Performance nods to Jeff Keller and Leslie Kritzer.
Jerry Rapp received Excellence in Choreography for Prison Dancer, which also garnered praise for its Outstanding Ensemble, and Outstanding Individual Performance of Jeigh Madjus. Excellence in Design went to Kendra Bell and Aaron Sherkow for Le Cabaret Grimm, Outstanding Orchestration to Stephen Ferri, Andrew Fox, and Adam Michael Kaufman for Foreverman, and the Theater for the American Musical Prize went to Stuck.
Other Outstanding Individual Performances went to Enrique Acevedo (Zapata!), Jessica Burrows (Himself and Nora), Tom Deckman (Arnie the Doughnut), Michelle Federer (How Deep Is the Ocean?), Ryan Kelly (Living with Henry), Jillian Louis and Kevin B. McGlynn (Flambé Dreams), Stacey Seargent (Central Avenue Breakdown), Haley Selmon (Le Cabaret Grimm), Graham Skipper (Re-Animator), and Morgan Weed (Swing State). The Daegu Production Award and New World Stages Development Prize will be announced in the coming weeks.
Below are selections of what some theater bloggers have been saying about the second half of the festival's offerings, as well as belated notices for Arnie the Doughnut.
Arnie the Doughnut: Frances Limoncelli (book), George Howe (lyrics, music)
A bouncy and cheery enterprise that otherwise adds up to nothing more than a well-executed but problematic piece of children's theater. … The show, with its perky tone and cartoon-like characters typical of children's theater, never conjures up enough sense of magic to transcend the basic lack of logic in the narrative. A doughnut does not seem to be a good candidate for anthropomorphic qualities. Nevertheless, the lively music and lyrics by George Howe … kept the kids in the audience quiet for some 75 minutes. (http://www.backstage.com)
It may be a cop-out to describe Arnie the Doughnut as sweet ­… but that's just what Frances Limoncelli (book) and George Howe (music and lyrics) have delivered. … It would be nice to also report that the show is nutritious, dramatically engaging, or even particularly original … but even running only 75 minutes the show feels long. … Another draft or two, better focusing on the central relationship, would seem a good idea to roll it into proper TheatreworksUSA shape. But if all you want is a simple chocolate-covered, sprinkle-kissed romp for the family, Arnie the Doughnut hits the spot. (http://www.talkinbroadway.com)
Central Avenue Breakdown: Kevin Ray (book, lyrics, music), Andrea Lepcio (book)
The encore production of Central Avenue Breakdown at this year's New York Musical Theatre Festival sizzles. … Not only does this musical have soul, it also has a story with heart. … Central Avenue Breakdown has legs. This is the one piece I've seen at the festival this year that is near clean enough to pick up and move to a commercial run. (http://theandygram.com)
It is easy to see why the festival invited Central Avenue Breakdown, which was part of the 2011 lineup, to return. The show … is rich with lively, moving and often truly original music by Kevin Ray. … But the book, by Mr. Ray and Andrea Lepcio (with additional story contributions by Suellen Vance), needs major work. … Still, Central Avenue Breakdown manages a touching finale. … The strong parts of this show deserve to go on. (http://artsbeat.blogs.nytimes.com)
The show has come back to NYMF in a big way, vastly improved in all of its ingredients and perfectly scaled to its new venue. Under the same director-choreographer, Christopher Windom, the show now dazzles. His dance numbers newly pop, in large part thanks to an extremely agile sextet of dancers. The new co–book writer (with composer Ray), Andrea Lepcio, has helped to clarify and streamline the once-muddy story line. (http://www.backstage.com)
Foreverman: Brett Boles (book, lyrics, music)
This is the most ambitious work I have seen at the festival this season. Foreverman has an interesting idea and a workable framework in place. It has a melodic score with lovely orchestrations by Stephen Ferri, Andrew Fox, and Adam Michael Kaufman. … Foreverman has real potential and good bones. … Congratulations to this team on a job well done. (http://theandygram.com)
Foreverman, which begins as a gothic mystery, soon devolves into a mash-up. … Bowles touches on provocative themes. … Unfortunately, these are slathered over an unemotional enterprise. Bowles' music is harmless, with occasional distinct harmonies. His lyrics are less diffuse than his book. … A comic duet between Hawkins and Morgan is a relief from all the confusing doom and gloom, but it's not enough to bring life to this tale of death thwarted. (http://www.backstage.com)
1-1/2 out of 4 stars. Fans of Frank Wildhorn should rush to catch Foreverman. … Unfortunately, Boles is akin to Wildhorn in spirit and deed. His book takes forever to get going and continually must stop and explain itself. Plot twists are downright silly. … And most damning of all, the songs are filled with tepid lyrics that all the passion in the world can't ignite. … Despite this, the cast commits themselves wholly to the project with admirable passion. … The cast don't have songs and story more worthy of their talent. (http://www.huffingtonpost.com)
The Groove Factory: David James Boyd (book, lyrics, music), Chad Kessler (book)
If you have an unquenchable appetite for the disco beat and are into the fun side of hard drugs and grotesque drag, there may be moments where your fancy is tickled, but for the most part this New York Musical Theatre Festival entry is a hard show to embrace. … There's plenty of routine disco-infused choreography by Buddy Casimano and costume glitter by David Withrow. What's in short supply are charm and taste. Sometimes the lack seems deliberate. Maybe that's in sync with the disco era, but a little wouldn't hurt. (http://www.backstage.com)
Rock of Ages meets Valley of the Dolls meets television test pattern, it purports to warn of the excesses of consumption and ambition that drove life at the end of the last millennium, but does so without the slightest bit of care, class, or crispness. … The only memorable thing about the musical numbers is their incessant beat. … This is a drawling, droning music video that may as well be sung in a foreign language for all it has to say about the screwed-up ways we pursue ourselves today. (http://www.talkinbroadway.com)
Le Cabaret Grimm: Jason Slavick (book, lyrics), Cassandra Marsh (music)
There are some beguiling things about the show. … Cassandra Marsh's traditional-sounding music boasts several piquant melodies, and it sometimes attains sumptuousness in the playing of the three-piece band, with Marsh as music director at the piano. Slavick's lyrics have some funny if obvious stuff. … Most impressive are the puppets and masks, which more than anything else supply a dollop of fairy-tale magic. … Still, the overall impact of the show is blunted by Slavick's weak concoction of a book. (http://www.backstage.com)
Of all the entries in this year's New York Musical Theatre Festival, Le Cabaret Grimm … is surely the most stylish … a visual dazzler, transforming from sultry and surly to homey and warm or even bitterly comic within seconds, all without breaking a sweat or varying its stride. … The biggest letdown is the music, which wallows more than it should in unadventurous emphatic piano riffs rather than in the more playful melodies the material demands. (http://www.talkinbroadway.com)
A Letter to Harvey Milk: Jerry James (book), Ellen M. Stewart (lyrics), Laura I. Kramer (music)
If it weren't for the quietly truthful, mercifully understated performances of Jeff Keller and Leslie Kritzer, which cut confidently through all the goo, Milk would curdle completely. … As there's very little dramatic action inherent in such a scenario, the authors try to compensate with a surfeit of backstory about both characters, which only emphasizes the stasis. … Indeed, Kramer's score is mostly uninspired pastiche, and Schwartz's sing-song lyrics are dotted with rhymes visible a mile off and filled with generic and cloying locutions. … It's telling that the climactic moment is not musicalized. It should have been. (http://www.backstage.com)
2-1/2 out of 4 stars. The heart of the show is the warm friendship that develops between Barbara the teacher and Harry the butcher. Leslie Kritzer is very good as Barbara and has a powerhouse voice to match. Even better is Jeff Keller as Harry. … The central problem is the looming presence of the Holocaust, which feels too weighty a matter for such a low-key musical like this. … When the show stays in the low-key vein that suits it, the songs often soar and any show would be glad to have two leads as solid and effective as Keller and Kritzer. (http://www.huffingtonpost.com)
Leslie Kritzer ensures no show she's in ever feels too small, but even her skyscraper-size talents are challenged by A Letter to Harvey Milk. … James's book covers an enormously compelling story in the central pseudo-love triangle, and never fully falters in examining it, but overall musical ambition is scant. Although Kramer's tunes are catchy and often heartfelt, and Schwartz's lyrics, if seldom ground-breaking, do the job, much of the drama resists singing. (http://www.talkinbroadway.com)
Living with Henry: Christopher Wilson (book, lyrics, music)
Living with Henry … has settled on a fresh narrative perspective for his post-apocalyptic AIDS crisis musical. … Sadly, this is a musical in search of a director. … In general the songs serve the piece well in developing character and advancing the plot. Unfortunately, they have been so poorly staged that I find myself wondering what the piece could actually be were it given a less convoluted production. (http://theandygram.com)
Wilson and director-choreographer Donna Marie Baratta make their potentially eye-rolling conceit work by never taking it for granted or treating it comedically. … Unfortunately, it does not impress as something that could be scaled up without crushing its intimate charms. … It's nice throughout, but not profound or world-changing. One hopes that Wilson, Baratta, and interested producers realize that that is, or at least should be, okay. (http://www.talkinbroadway.com)
Prison Dancer: Romeo Candido (book, lyrics, music), Carmen Dejesus (book)
This buoyant evening … avoids mushy sentimentality and liberal guilt in dealing with a bunch of hardened criminals who learn about love and community through dance. … Romeo Candido's disco-inspired score is beautifully wed to his lyrics and to his and Carmen De Jesus' book. Under the vibrant work of director-choreographer Jenn Rapp, everyone is a distinct character. … Despite the characters' sordid backgrounds, we end up caring what happens to them. Yes, they're criminals, but they're also human and as such not beyond saving. (http://www.backstage.com)
Like many shows of this nature, its execution is nowhere near as good as its intentions. … The biggest problem is that the writers have not settled on whether this is supposed to be Christian's or Lola's story, and that indecision makes the evening one of chaotic imbalance. … As messy and unfocused as the evening is, however, there's a daring and moving musical in it somewhere just clawing to get out. … That would mean some heavy-duty rewriting (and likely cutting) to bring the bloated piece into tight, taut line. (http://www.talkinbroadway.com)
Shelter: Brittany Bullen (book, lyrics, music), Newell Bullen (music)
Twenty minutes into Shelter the cast breaks into a hymnlike song called "Noah's Prayer," and the musical finally takes off and soars. Then it sinks back into the well-meaning but clunky piece we hoped we'd escaped. … It's frustrating because when Shelter is occasionally aloft we get a glimpse of the stirring, socially aware musical that its creators intended. … Brittany Bullen's book is meant to draw attention to the plight of women and families who wind up in homeless shelters, and that's admirable. But doing so obliges her to depict all the various types of people and situations one might find in a shelter rather than restricting her story to actions growing out of conflicts between characters. (http://www.backstage.com)
It is, indeed, a musical about life inside a battered women's home, and is loaded with all the clichés, limitations, and heartfelt sense of doing the right thing you'd expect. … I'm disinclined to take it too much to task for its arid, predictable book. … I'd rather discuss Shelter's one true surprise: its arrangements. Clark Bullen has worked wonders on the ruthlessly average songs. … It can't be easy to plumb the gutter for society's most lamentable castoffs and find some way to make them soar in spite of that – yet that is just what the Bullens have movingly and miraculously done. (http://www.talkinbroadway.com)
Stand Tall: Lee Wyatt-Buchan (book, lyrics), Aldie & Sandy Chalmers (music)
The campiness quotient should be high, but Stand Tall takes itself surprisingly seriously, attempting to convey important messages about bullying and self-confidence. This conflict between content and tone is especially obvious in Welnicki and Shackner's performances, which are earnest to the point of naiveté. … The songs are almost uniformly repetitive, both harmonically and lyrically. It might pass on the radio, but it's a striking blow here. (http://www.backstage.com)
1-1/2 out of 4 stars. It starts with the solid song "Find Us a King" and ends with another one, the title tune "Stand Tall," both rousingly performed by a talented cast. In between we have a very weak book and a few decent tunes that can't wipe out the tired jokes and plodding action that constitutes the show. …The dreadful book … needs to be entirely rewritten. It's a pity because when they put their minds to it, Lee Wyatt-Buchan and Sandy & Aldie Chalmers can deliver some very strong tunes. … I have faith that with diligence and hard work that the team that delivered the handful of strong tunes sprinkled throughout is capable of much better. (http://www.huffingtonpost.com)
This version gives new meaning to the biblical David and Golilath and reduces it to what the teenie bopper crowd would probably relate to best. … This is all a lot of silly fun, with occasional laugh lines thrown into this rock musical. The actors play a lot of tongue-in-cheek and sometimes when not, should be. Along with some really loud rock guitar, there are some top voices and songs. (http://www.examiner.com)
Swing State: Dana Yeaton (book, lyrics), Andy Mitton (music)
Swing State is an odd little show. It's a two-person, boy-meets-girl musical, except the boy is gay. It has a flip, political-sounding title, but the story is not a farce about elections but instead a drama about personal loss and childhood trauma. It's a musical about tolerance, but chiefly emphasizes tolerance of those who are openly intolerant. … In its painstaking efforts not to judge the Christian right, somehow the show places the onus to embrace "the other" disproportionately on Neil, and Bonnie mostly gets a free pass for her bigotry. (http://artsbeat.blogs.nytimes.com)
Not everything sings. Certainly not Swing State. … The characters are too thin, their wants are too small, and the story is seriously unpersuasive, despite the talented ministrations of actors Jed Resnick and Morgan Weed. … A two-character musical is a difficult thing to structure, and Yeaton isn't up to it, awkwardly ping-ponging back and forth between Neil and Bonnie and jury-rigging reasons to bring them together. … There are some not-unattractive melodies, but it seems more determined than inspired – which pretty much sums up the specious Swing State itself. (http://www.backstage.com)
1-1/2 out of 4 stars. Here's a rather confused two-hander that benefits greatly from the personable leads who perform it. … Unfortunately, the tone of the show is never quite established. Far and away the best song is the wickedly funny tune Bonnie sings when she's reading a picture book to her students about the evils of abortion. But overall, the tone is more gentle and timid. … It would be more interesting if Bonnie weren't such a cartoon and Neil so tepid. (http://www.huffingtonpost.com)
Zapata!: Peter Edwards (book, lyrics, music), Ana Edwards (book)
Most of the important elements are in place for Zapata!, a promising and highly original musical. … Edwards' songs are mostly captivating. … But the biggest problem with this show is the book, which Edwards wrote with his wife, Ana. Instead of just concentrating on the compelling story of Zapata, "the elegant Indian," the Edwardses have grafted on to it a contemporary twist. … We don't need to be hit on the head. The Wall Street protest finale, "We Fight for What We Love," is especially needless and cringe-worthy. … It's all fixable with a bit of rethinking before the next step in the process. (http://www.backstage.com)
Authors Peter and Ana Edwards … undercut an otherwise persuasive personal history by insisting on their argument too strongly. … It's never clear what, beyond the simplest moral ("fight for what you love, not against what you hate") the takeaway is, or how it directly relates to the present day. … The audience might have an easier time if the Occupy frame were either downplayed or dropped altogether. It's admirable to want to show how these sorts of movements have intertwined and informed each other throughout history, but this one provides confusion rather than clarity. (http://www.talkinbroadway.com)