From its first shot, "Nationals" (the second hour of Glee's back-to-back episodes) leads with its heart and not its head. Logic be damned, writer Ali Adler is out to tug at our basal emotions.
Everyone is on edge as they rehearse for nationals, the last chance for glory the seniors will get in their high school career with New Directions. Not only will the team have to perform first, the "death slot," but Mercedes (Amber Riley) is feverish, Quinn (Dianna Agron) is wobbly, Rachel (Lea Michele) is preoccupied … everyone has issues. Of course, Will (Matthew Morrison) delivers the perfect pep talk, and Finn (Cory Monteith) rallies the team to win one for Mr. S.
They begin their competition program, fittingly, with Lady Gaga's "Edge of Glory." The audience at nationals loved it. I was not so overwhelmed. Rachel is downhearted that she hasn't seen NYADA teacher Carmen Tibideaux (Whoopi Goldberg), but halfway through her solo of Celine Dion's "It's All Coming Back to Me Now," she sees Tibideaux arrive, which energizes her performance and again drives the crowd crazy. I remained un-whelmed. Finn leads New Directions in their last song, Meat Loaf's "Paradise by the Dashboard Light," which sends the audience into utter rapture. I found it underwhelming.
The second finalist is archrival Vocal Adrenaline, led by Unique (Alex Newell) in much more whelming performances of Nicki Minaj's "Starships" and The Who's "Pinball Wizard." We then briefly hear the third finalist, the Portland Scale Blazers, in a wonderfully tacky version of "Starlight Express," which guest judge Perez Hilton found "haunting." The other two judges, Lindsey Lohan and Assemblyman Fong (Rex Lee), disagree, and while we wait for their decision, we see Vocal Adrenaline coach Jesse (Jonathan Groff) track down Carmen to put in a good word for his ex-girlfriend Rachel.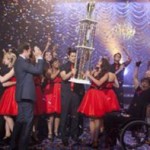 At the trophy ceremony, the judges present the MVP award (deservedly) to Unique, third place to the Portland Scale Blazers, and first place to … drumroll … New Directions. Cue confetti and slow-mo camera, which continues as the choir returns to the halls of McKinley High. Will the gleeks be welcomed or dissed with slushies? The jocks approach, cups in hand, and cover the choristers with … confetti. The love fest continues as we watch Sue (Jane Lynch) regain her Cheerios, Emma (Jayma Mays) and Will (distastefully) consummate their marriage, Finn collect his bet winnings from Rick "The Stick" (Rock Anthony), Rachel sign her first autograph, and the trophy placed in the display case.
In a somewhat awkward coda, we cut to the Teacher of the Year Award ceremony, during which Principal Figgins (Iqbal Theba) brings Rachel and Finn onstage to announce this year's winner. Can there be any doubt? It's Will, but before he collects his plaque, New Directions sing Queen's "We Are the Champions." There are tears all around, no doubt some of them real, as Will joins his students onstage. The sentimental rollercoaster is sure to be put into overdrive for the season finale, sending fans into emotional whiplash.