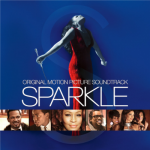 Sony RCA Records has released the soundtrack to the upcoming film Sparkle, a remake of the 1976 musical picture (starring Irene Cara) inspired by The Supremes, to middling reviews. The recording includes new versions of four songs from Curtis Mayfield's original soundtrack, among them "Something He Can Feel" (a #1 hit originally for Aretha Franklin and later when covered by En Vogue), plus three original compositions from R. Kelly, among them "Celebrate" (the last song Whitney Houston recorded), and others. The vocalists include Carmen Ejogo, Goapele, Cee-Lo Green, Whitney Houston, Jordin Sparks, and Tika Sumpter.
Andy Kellman (All Music): The soundtrack for the 2012 remake of 1976's Sparkle is an enjoyable if muddled affair. … When it comes to "Something He Can Feel," it would be an understatement to say that the deck is stacked against Sparks and her vocal partners, Carmen Ejogo and Tika Sumpter. Both the Franklin original and En Vogue's 1992 version rightly topped the R&B chart. Sensibly, there's no effort to out-power them; this version has its own light and breathy touch. … Houston sounds as commanding as one can expect from a later recording. Cee-Lo Green contributes the rollicking "I'm a Man."
Melissa Maerz (Entertainment Weekly): It's powerful to hear Houston belting out a gospel song for the last time. … You'd expect her to break into a sermon-stopping vocal run. And she comes close a few times. But she never does. … So that leaves Houston's costar Jordin Sparks to carry most of Sparkle. Unfortunately, that burden is heavy. … The best track belongs to the only man on the bill. … [Cee Lo's] strutting soul-funk oozes so much charisma, you'll almost believe that he's a ''love machine.'' (Almost.) But the track only makes it easier to miss Houston. If anyone could've served up a fierce rebuttal, it was her. And I would've loved to hear her sing ''I'm a Woman.'' B
Andy Propst (Theater Mania): While it can be difficult to hear Houston's vocals and not feel a sense of loss, she and Sparks thrill as their voices combine to whip the dance tune "Celebrate" into an infectious joy. Houston can be heard in one other solo track (a stirring "His Eye Is on the Sparrow") and Sparks offers up a trio of great solos. The album is also rounded out with numbers performed by the likes of Cee Lo Green (channeling James Brown), Carmen Ejogo (whose work brings to mind classic Diana Ross), and Goapele.
Jody Rosen (Rolling Stone): The headline-grabbers here are two Whitney Houston songs, her last-ever recordings. They're also this soundtrack's low points. "Celebrate" is forgettable disco pop, and on the gospel standard "His Eye Is on the Sparrow," Houston sings – and croaks – in a voice octaves lower than in her prime. At times the song has a ravaged magnificence, but mostly it's painful. Otherwise, though, this is a delightful record, from Cee Lo's soul-funk "I'm a Man" to Jordin Sparks' torch-y "One Win." Sparkle revives four soul chestnuts and includes three originals written and produced by R. Kelly.