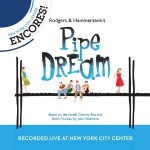 Ghostlight Records has released the live 2012 Encores! concert revival cast recording of Pipe Dream, Rodgers & Hammerstein's 1955 musical adaptation of John Steinbeck's 1954 novel Sweet Thursday, to strongly positive reviews. The creative team includes Oscar Hammerstein II (book, lyrics), David Ives (book adaptation), Richard Rodgers (music), Rob Berman (music direction), Robert Russell Bennett (orchestrations), and John Morris (dance arrangements). The cast includes Will Chase (Doc), Laura Osnes (Suzy), Leslie Uggams (Fauna), Stephen Wallem (Hazel), and Tom Wopat (Mac). The liner notes include essays by R&H President Ted Chapin, R&H Director of Music Bruce Pomahac, Encores! Artistic Director Jack Viertel, and more.
Andy Propst (Theater Mania): Osnes is surrounded by a terrific company, including Wopat, Will Chase, Leslie Uggams, and Stephen Wallem, all of whom are in top form. And the combined work of these artists along with the Encores! orchestra, led by Rob Berman, makes this little-known musical sparkle brightly. … Rodgers' score is filled with tunes that beautifully bring the period and color of the place to life, even as it soars with the sort of melodiousness that listeners expect. … Berman's direction of the orchestra has a remarkable precision, and the musicians' work supports the vocalists to perfection. Also notable is the balance and clarity of this live recording, which includes just enough dialogue to help listeners follow the story and just the right levels of audience reaction to create a sense of being present. … This recording is both a musical and historic triumph.
Steven Suskin (Playbill): This failed, neglected score does sound a whole lot better now that we can actually hear it. The big numbers have the glow of pure R&H. These are not among their best or most famous songs, true; but Dick and Oscar were craftsmen, and "Everybody's Got a Home But Me," "All at Once You Love Her," "The Man I Used to Be" and "Suzy Is a Good Thing" are fine examples of their craft. The surprise here, though, comes from other sections of the score. More complicated numbers like "The Tide Pool," "A Lopsided Bus," "The Bum's Opera" and "The Party That We're Gonna Have Tomorrow Night" – which sound merely eccentric on the 1955 cast album – are here raffish and bountiful. … Everything Traubel sings on the 1955 recording sounds strange. Put Leslie Uggams in the role [and] Pipe Dream seem possible. She is joined by Will Chase as Doc and Laura Osnes as Suzy. All three perform skillfully and attractively, and are presumably what Dick and Oscar had in mind before Pipe Dream became so damagingly sidetracked. The whole thing sounds pretty wonderful. … Those who are unfamiliar with the show should be thrilled to hear a brand new, old Rodgers & Hammerstein score.