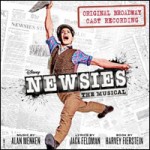 Recorded March 4-5 at MSR Studios in New York, the original Broadway cast album of Newsies
was released this week and has received generally positive reviews. The creative team includes Harvey Fiersetin (book), Jack Feldman (lyrics), Alan Menken (music), Kurt Deutsch (executive producer), and Frank Filipetti (recording engineer and mixer).
Andy Propst (Theater Mania): A burst of youthful and tuneful exuberance has arrived for musical theater lovers' enjoyment. … The exquisitely produced album beautifully captures the energy of the show, while also showcasing composer Alan Menken's lushly melodic score, which carefully blends period sounds of early Tin Pan Alley and with contemporary musical idioms and styles. Perhaps more important, the expertly mixed recording affords listeners the opportunity to savor Jack Feldman's consistently clever lyrics. … As with the show itself, Jeremy Jordan's immensely charismatic and powerfully sung performance … proves to be the central focus of the album. … It should be noted that the physical recording will feature these tunes in both the incarnations heard on the digital release and in extended bonus tracks, with the dance breaks for songs. The CD will also feature a third bonus track ­– a rendition of "Santa Fe," performed by Jordan with Menken at the piano.
Brad Hathaway (DC Theatre Scene): The original Broadway cast recording of Newsies is … is a gem. A well-produced album with all the features you need to appreciate the score's ample strengths delivers this almost relentlessly upbeat score with clarity, energy and flash. … The recording grows on you because it isn't all surface glitz, although there is enough sparkle … to entertain you even if you aren't paying much attention. Pay attention and you will find much more to like than just its generally genial first impression. … Often, the dance breaks that are so exciting in the theater when you can see the choreography being executed can be a bit dull and repetitive sounding when you only have the audio. Ghostlight Records solves the problem for this score which has quite a bit of dance music by offering edited versions of some of the more dance-intensive numbers in the order they appear in the show but then including un-edited versions at the end. … This is a fine solution, giving full exposure to Mark Hummel's work as dance music arranger. Besides, the album would only run 50 minutes without the "bonus" tracks.
Steven Suskin (Playbill): Menken is in fine form here, perhaps his most tuneful form. I have always found his work to be far more enjoyable when he puts aside contemporary rhythms and allows himself free license to sit back, relax, and write rich melodies. He is well matched with the humorous and artful lyrics of Jack Feldman, with whom we wrote the Newsies film score 20 years ago. (The Broadway version includes six newly written songs.) … The original cast album of Newsies has now arrived, and it pretty well reflects the excitement you get onstage. Many of the musical numbers for the gang of newsies are simply exhilarating.