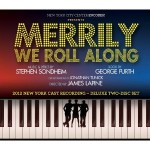 PS Classics has released the cast recording of this February's Encores! concert version of Merrily We Roll Along, the musical adaptation of Kaufman and Hart's 1934 play, to positive critical and popular reviews, landing atop the Billboard Cast Album Chart in its first week of release. This latest recording is the only one to include all the changes made since the show's initial 1981 Broadway run, including the new songs "That Frank," "Growing Up," "Musical Husbands" and "The Blob."
The creative team includes George Furth (book), James Lapine (adaptation), Stephen Sondheim (lyrics, music), Rob Berman (music direction), and Jonathan Tunick (orchestrations). The cast includes Lin-Manuel Miranda (Charley), Colin Donnell (Franklin), Celia Keenan-Bolger (Mary), Betsy Wolfe (Beth), Elizabeth Stanley (Gussie), Adam Grupper (Joe), and Zachary Unger (Frank Jr.).
Elysa Gardner (USA Today): Our pick of the week is "Old Friends," featuring Colin Donnell, Celia Keenan-Bolger and Lin-Manuel Miranda. A new recording of Merrily We Roll Along features fresh orchestrations by longtime Stephen Sondheim collaborator Jonathan Tunick and, on this track, three noted talents serving the song's sly wit and bittersweet warmth.
Andy Propst (Theater Mania): It's tough not to fall in love with this superlatively produced disc from the moment that one hears Tunick's revised overture … that stands proudly alongside such iconic musical theater openings as those found in Gypsy and Sweet Charity. … It's not only Tunick's new contributions that make this new album notable. There's also the inclusion of copious amounts of dialogue, which make the experience of listening to the recording akin to seeing the piece unfold in the theater, and the flavorsome performances from the principals. … The set comes with a deluxe color booklet that features not only the standard lyrics and synopsis, but also a pair of essays, including one by Tunick about his work on the musical in its original as well as this new, and most likely definitive, incarnation.
Joe Stead (Chicago Stage Style): There may be better sung renditions of these songs available on other recordings, but I doubt any of them will give you the full scope or better appreciation of a minor masterpiece that PS Classics' latest labor of love assuredly does. Just the swinging sound of Jonathan Tunick's freshly updated orchestrations was enough to get my heart racing. … In the end, it is about friendships and redemptions, as Sean Patrick Flanhaven's informed liner notes observe. The redemption of a musical flop into a hit is rare and exceedingly moving to witness. And Merrily We Roll Along has finally and fully earned that redemption.