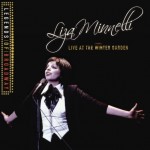 Masterworks Broadway has released the first digital transfer of Liza Minnelli's live recording
of her 1974 concert at the Winter Garden Theater. The reviews have been generally favorable. The tracks on the CD, which include three songs not on the original LP release, feature a pair written by Charles Aznavour and a handful by Minnelli's frequent collaborators John Kander and Fred Ebb, who also wrote the book for the show. The creative team also includes Bob Fosse (direction and choreography), Marvin Hamlisch (music coordinator), and Jack French (conductor). The recording team includes Gary Klein (producer), Phil Ramone (engineer), and Don Puluse (editor and remixer).
Chuck Lavazzi (KDHX): The story behind the release of this newly remastered recording of the famous 1974 concert is a bit convoluted. … This is the first time that the entire show will come out on CD and digital release. … When it's good – which it mostly is – it's very good indeed. Of course, Ms. Minnelli was at the top of her game when she recorded this. Fresh from Broadway, film, and television triumphs and performing for a wildly enthusiastic audience, she sounds energized and completely engaged. … The selection of material is quite good as are the arrangements.
Andy Propst (Theater Mania): After spending nearly 40 years in limbo because of rights issues, this live recording of Minnelli's engagement at Broadway's Winter Garden Theatre hits CD, and there's no doubt her fans will welcome this release that features the multi-award-winning singer at her peppiest best. Even if the Las Vegas-y medley of "If You Can Read My Mind" paired with "Come Back to Me" sounds a little retro-campy by 2012 standards, Minnelli's deftness with some of Kander and Ebb's specialty material for the show atones for it.
William Ruhlmann (CD Universe): Essentially a revised and updated version of the show she immortalized as Liza with a Z in 1972, she tries to mix contemporary material with show tunes. … It doesn't really work, despite her usual full-throttle performance style. … [Fred Ebb] and his composing companion, John Kander, have penned some special material, notably the novelty "Exactly Like Me." … This is a typically effective live show from Minnelli, and clearly just a souvenir from the act itself that could only be completed by seeing as well as hearing her.