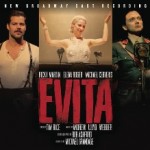 Last week, Sony Masterworks released the 2012 Broadway revival cast recording of Evita
to generally positive reviews. The creative team includes Time Rice (book and lyrics), Andrew Lloyd Webber (music). The cast includes Ricky Martin (Ché), Michael Cerveris (Juan Perón), Elena Roger (Evita), Max von Essen (Magaldi) and Rachel Potter (Mistress).
Pip Ellwood (Entertainment Focus): Roger's voice is of a higher pitch than previous Eva Perons and won't be to everyone's liking. … She is perhaps more suited to the gentler songs such as "You Must Love Me" and "Don't Cry for Me Argentina" than she is the more upbeat powerful songs. … Martin on the other hand shows a previously unheard power to his voice. … Michael Cerveris is also worthy of a mention. His duet with Roger on "I'd Be Surprisingly Good for You" is an early highlight with the two stars creating a believable chemistry with strong vocals. A bonus track on the release is the Spanish language version of "Don't Cry for Me Argentina (No Llores por Mi Argentina)." Somehow the song sounds even more powerful in Spanish. … 3 stars.
Peter Filichia (Masterworks Broadway): The best revival cast albums don't mirror what was placed on the original cast album; they add a little here and subtract a little there. This recording weighs in at six minutes longer, but that's mostly because of two extra songs on disc two. Anyone who follows Broadway and Hollywood won't need much time to guess what the first one is. When Evita was filmed, a new song was added, and as is the case with many Broadway revivals, the new song has been included here. … The other cut comes at the end as a bonus track. Roger reprises the show's platinum hit, "Don't Cry for Me, Argentina," but this time in her native language. It's quite impressive. There's a good deal more dance music, too. The most spirited comes in "I'd Be Surprisingly Good for You." … Even if you know previous recordings of Evita by heart, this one will be surprisingly good for you, too.
Andy Propst (Theater Mania): Perhaps chief among the reasons for adding the album to the shelf are the superb new orchestrations from Lloyd Webber and David Cullen, who have drastically revised their work from the 2006 British production (also starring Roger), which gave life to this revival. Their efforts not only enhance the music's Latin flavor, but it also beautifully supports director Michael Grandage's dramatically austere vision for the piece. Among the finest new sections is the sultry tango sequence that has been added to "I'd Be Surprisingly Good for You." … Roger's turn as Eva … will stir passionate debate, and yet there is little question that she brings fierceness and passion to the role. … The album – which includes a bonus track of Roger's searing Spanish-language rendition of "Don't Cry for Me Argentina" – comes slipcased and with a full-color booklet that features pictures and lyrics along with a brief essay from Grandage about his vision for the show, which is so superlatively preserved on this genuinely rewarding set.
Joe Stead (Stage Style): The deluxe original Broadway cast album is a must-have for all musical theatre fans. … The currently running 2012 Broadway revival can really be summed up in two words: Ricky Martin. … Martin definitely has the vocal chops [but] I am not convinced … that Martin has any clue of this character's biting cynicism. … Fortunately for Sony's otherwise lavish recorded account, this interpretive difference does not completely mar what is still Webber and Rice's finest (in my opinion) and most thrilling theatrical stage score. … The biggest liability of this new CD is Evita herself. Elena Roger is the first authentic Argentina-born actress to take on the title role in a major U.S. production, and it's fun hearing the authenticity … but she's a musical lightweight.