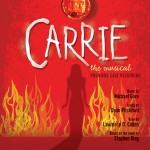 Ghostlight Records has released the much-anticipated 2011 Off-Broadway "revisal" cast recording of the 1988 musical Carrie, the infamous adaptation of Stephen King's 1974 novel and 1976 film, to appreciative reviews. The legendary original production opened at the RSC in Stratford, England, with Barbara Cook and powerhouse newcomer Linzi Hateley. The Broadway transfer, which saw Betty Buckley replace Cook, closed after only five performances (one of which I was fortunate to attend) and lost an estimated $8 million, so an original cast album was never made – though there are several bootleg recordings being shared.  The revised production's creative team includes Lawrence D. Cohen (book), Dean Pitchford (lyrics), Michael Gore (music), and Doug Besterman (orchestrations). The cast includes Lortel nominees Marin Mazzie and Molly Ranson.
Steve Bergman (Edge): The performances of Mazzie and Ranson effectively balance the humanity of their dysfunctional mother-daughter relationship with Margaret's religious fanaticism and Carrie's telekinesis. We finally feel sympathy for the psychotic Margaret when she delivers the mother's lament "When There's No One," even though we know that all will not end happily. With a smaller venue presenting the 2012 revival (the MCC Theater, Off-Broadway), the demons have been exorcised from this show, and Ghostlight Records has released the long-awaited cast recording to memorialize this horror tale.
Bryant Burnette (Truth Inside the Lie): Bootlegs are better than nothing, but … we now have something considerably better in the form of this official CD release. … Overall, this is a pretty good CD. The music isn't awesome or anything, but it's mostly good. … The CD is packaged with a 44-page booklet that includes all the lyrics, as well as some good photos and an essay by writer Lawrence D. Cohen (who wrote the book for the musical, as well as the screenplay for the 1976 movie). In terms of its presentation, this is a classy affair, and for musical fans and hardcore King collectors, I'd say it's well worth picking up a copy.
Andy Propst (Theater Mania): As if owning – at long last – a legitimate recording of the infamous Broadway flop based on Stephen King's teen horror tale Carrie were not enough, this album that preserves the revised version of the show that played Off-Broadway features the uncompromisingly dynamic performances of Marin Mazzie and Molly Ranson, as mother and daughter Margaret and Carrie White, whose powerhouse voices send songs like "When There's No One," "And Eve Was Weak," and the musical's title number soaring. There's solid supporting work, too, particularly from Christy Altomare as "good girl" Sue, and while not all of the material from composer Michael Gore and lyricist Dean Pitchford is sterling (notably one of the new numbers, "The World According to Chris"), the album has been given a first-class packaging and it's a disc that will be savored and debated for years to come.